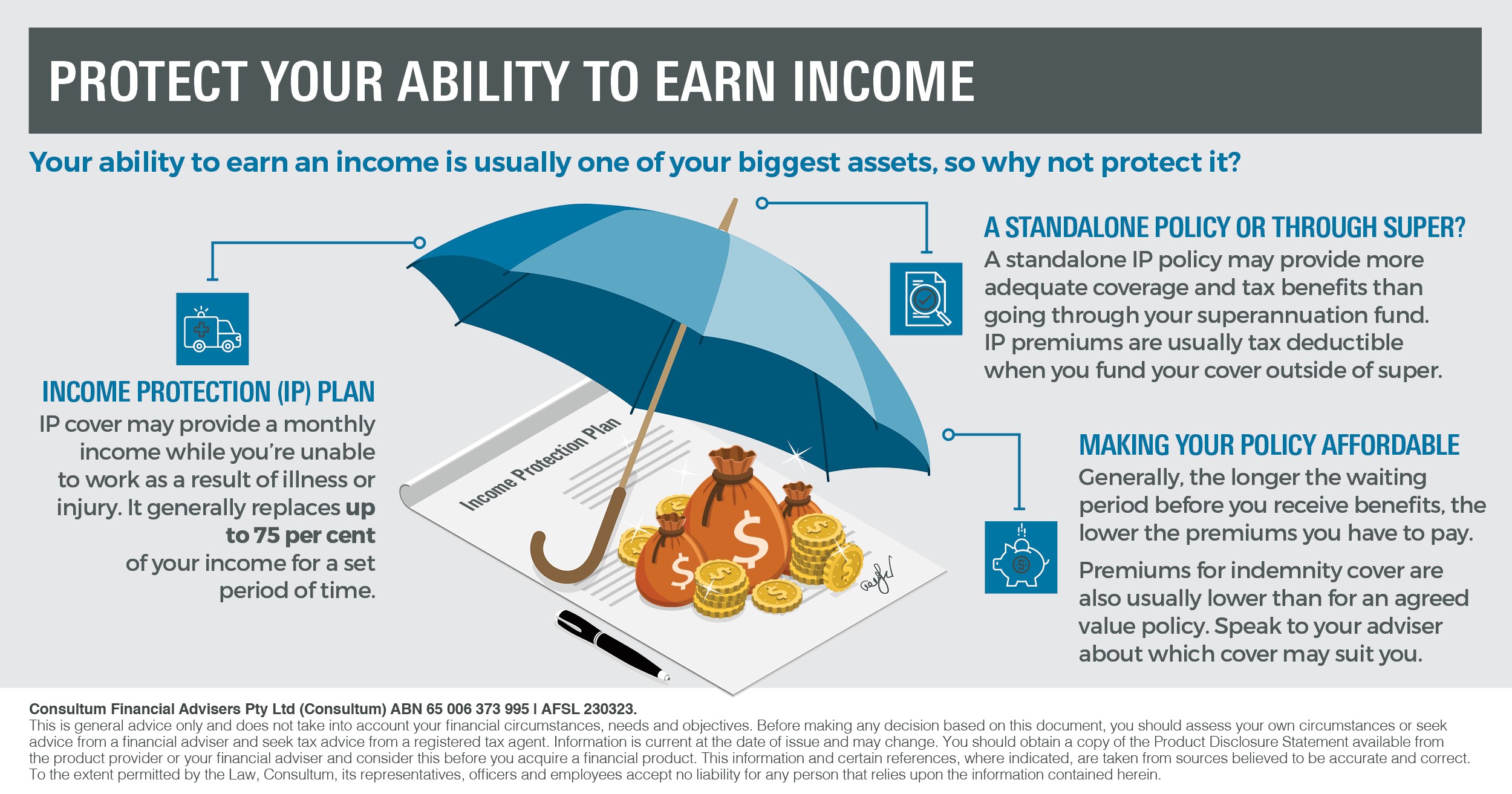 A sudden illness or injury can keep you from working and leave you in financial difficulty. You may get help from a worker's compensation payout or personal savings, but are they enough to help you meet your expenses and financial obligations?
Taking out an income protection (IP) plan may help provide peace of mind that you'll be able to meet your financial responsibilities and focus on recovering. IP cover may provide a monthly income while you're unable to work as a result of illness or injury. It generally replaces up to 75 per cent of your income for a set period of time.
Standalone or through super?
Getting your IP cover through your superannuation fund may be a good idea if you want to avoid paying for your insurance out of pocket. But keep in mind that the policies offered through super may not cover all your financial obligations for an extended period of time.
A standalone IP policy may provide more adequate coverage. It may also offer you tax benefits - IP premiums are usually tax deductible when you fund your cover outside super.
Making your policy affordable
If cost is a concern in taking out a standalone plan, there are a few ways you may be able to make your premiums more affordable. One of them could be choosing a longer waiting period before you receive benefits after being unable to work due to illness or injury. Generally, the longer you wait, the lower the premiums you have to pay.
Opting for indemnity cover may also help you keep your insurance costs down. You'll have to choose between indemnity and agreed-value cover for your IP plan. Under an indemnity policy, your insurer bases the monthly benefit you would be paid on your income at the time you make a claim. For an agreed-value policy, the benefit is based on your income when you apply for coverage. Premiums for indemnity cover are usually lower than for an agreed value policy.
But indemnity policies may vary among providers, so speak to your adviser about which cover may suit you. Your adviser may also help you tailor your plan to meet your income protection needs.
AMA (WA) members are eligible for a 5% discount on your premiums for the first and subsequent years on any new business Life Insurance, Income Protection, Trauma or Total and Permanent Disability policies taken out via AMA Financial Services from September 1, 2021 to March 31, 2022*
Should you need assistance with your insurance you can book a free consultation with an AMA Financial Services advisor. Alternatively, you can call on 1800 262 346 or email advice@amafp.com.au.
Consultum Financial Advisers Pty Ltd l ABN 65 006 373 995 l AFSL 230323 | Part of the IOOF group. This is general advice only and does not take into account your financial circumstances, needs and objectives. Before making any decision based on this document, you should assess your own circumstances or seek advice from a financial adviser and seek tax advice from a registered tax agent. Information is current at the date of issue and may change.